Inspection Database to support EU Legislation other than PSC - THETIS EU
The European Union's policy on maritime safety and protection of the marine environment is based on the precautionary principle and aims at the highest level of protection. The EU Maritime legislation is flag neutral and applies to most ships, with some variation of applicability depending on the size and the type of ship and in most cases aligns the EU legal acts with relevant International Maritime Conventions.
In this context, Member States should endeavour to inspect ships either flying their flags or entering ports under their jurisdiction and ensure, that they comply not only with the provisions of the international instruments (controlled within the context of the PSC Directive) but with the relevant applicable EU legislation thus limiting the impact of maritime transport on safety of life at sea, pollution of the sea, climate and air quality.
EMSA extended THETIS by developing a new dedicated module (originally named THETIS –S and currently known as THETIS-EU) where users depending on their access rights are able to record and exchange data on inspections and verifications foreseen by EU legislation and not covered by the PSC Directive, while the system facilitates targeting and alerts on the basis of predefined requirements set by EU legislation.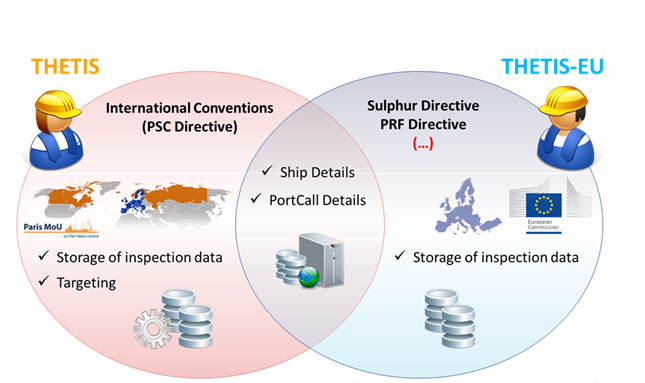 THETIS EU caters provisions related to Port State Control which are not included in the PSC Directive and facilitate Flag State Control requirements.
THETIS EU since 1st of January 2015 serves as a platform to record and exchange information on the results of individual compliance verifications performed by Member States as foreseen by Directive (EU) 2016/802 on the reduction in the sulphur content of marine fuels, and since April 2016 serves as a platform to record and exchange information on the results of inspections foreseen by Directive 2000/59/EC on port reception facilities.
THETIS EU also interfaces with THETIS and Inspection results are also available through a public website.