Integrated Maritime Services
Through IMS Services EMSA strives to:
Promote and increase regional, national and local cooperation;
Provide additional, complementary and supportive data, information and tools for enhancing the maritime domain picture;
Provide relevant services to all authorities/organisations executing functions in the maritime domain;
Respond to detailed needs and requirements as specified by users;
Provide services to users which are easy to use, fast to develop and cost-effective to run.
Integrating data for a more safe, secure and clean maritime environment
Recognising the benefits of exchanging information between different government entities and ensuring more effective integration of maritime information is a key element within the European Commission's (EC) Integrated Maritime Policy. EMSA is uniquely positioned to help the European Member States, EU bodies and organisations, and the EC achieve this aim.
Firstly, as an operational agency of the EU, EMSA has in-depth understanding of the maritime situation in and around EU waters. Experience dealing with a variety of both safety and security related concerns from legal and operational perspectives has given EMSA extensive knowledge about many of the issues which arise, and about the practical realities of addressing these.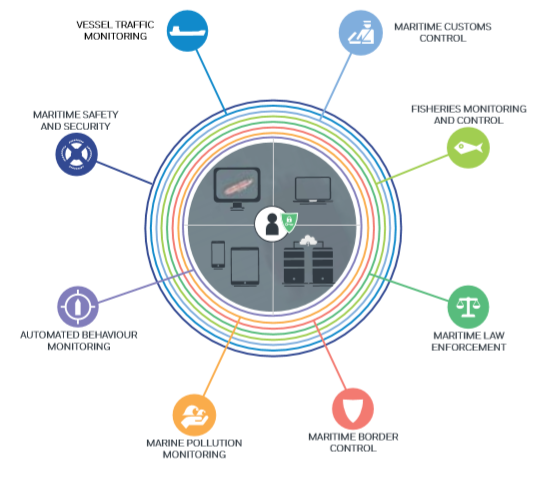 Secondly, EMSA operates and manages a suite of systems which receive, process, and distribute information on vessel traffic reports (LRIT, SafeSeaNet), satellite monitoring (CleanSeaNet), and Port State Control (Thetis). The services produced by these systems are shared with Member States and the Commission, to supplement and enhance national capacity for vessel traffic monitoring, Port State Control, and maritime pollution preparedness and response. EMSA has developed a platform to ensure the performance, availability and reliability of all the maritime information systems it hosts. This platform can also integrate and combine different types of data, including data provided by the end user, to produce customised services tailored to user requirements. These services are used by European authorities to obtain a clearer picture of a broad range of activities in the maritime domain, building a common picture across EU maritime interests. Enabling governmental and institutional organisations to make use of EMSA's systems avoids duplication of effort, overlapping infrastructures and unnecessary expenditure
Services are offered directly to EU Member States and organisations, sparing them the cost and complexity of buying and managing the underlying hardware and software, and hosting separate data integration systems. Users have full operational support, 24 hours a day, 7 days a week, through EMSA's Maritime Support Services (MSS).
IMS provide functionalities for the purpose described in Annex III of the Directive. i.e. maritime safety, marine environment protection, port and maritime security, efficiency of maritime traffic and maritime transport and regional, national and local cooperation for the exchange of additional information.
IMS, through the integration and sharing of relevant data and information, allow the provision of a set of configurable, voluntary functionalities responding to detailed business requirements. IMS integrates SafeSeaNet mandatory and additional system functionalities together with other relevant data from Union information systems, as defined in Annex III point 3 of Directive 2002/59/EC, as amended, as well as Member States or third party specific data sets and information. IMS are offered to all EU Member States authorities executing functions in the maritime domain.