Remotely Piloted Aircraft Systems Services (RPAS)
The EMSA RPAS services have been developed to assist in maritime surveillance operations to support authorities involved in Coast Guard functions undertaken by Member States
Used as a complementary tool in the overall surveillance chain which includes satellite imagery, vessel positioning information and surveillance by manned maritime patrol aircraft and vessels, the RPAS service will increase the maritime situational awareness with additional sources of data.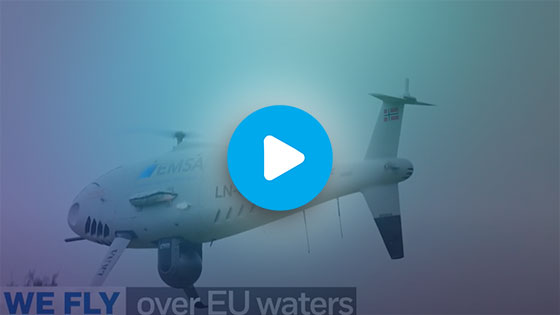 Remotely Piloted Aircraft Systems (RPAS) can be used as aerial platforms for sensors such as optical cameras in the visible and infrared (IR) spectral range for night and day maritime surveillance, IR sensors for oil slick detection and analysis, radar for maritime surveillance, and oil spill detection, and gas sensors ("sniffers") to measure the amount of SOx in a plume emitted by a ship to be able to calculate the percentage of sulphur used in the fuel burned by the ship. Additionally all RPAS are equipped with AIS sensors to have a complete picture of vessel movements and distress sensors to be able to react in emergencies.
Who can benefit and how?
The RPAS services are offered by EMSA free of charge to EU Member States, Candidate Countries and EFTA Member States. The areas of operation can be all sea areas surrounding the European Union with an EU or EFTA country as a starting point of the service.
The request for RPAS services can be made by Maritime Authorities of the European Union (EU) Member States, Candidate Countries and EFTA Member States, or other Member State Authorities through the European Agencies FRONTEX and EFCA.
Recently Published - Remotely Piloted Aircraft Systems Services