Seafarer Statistics in the EU - Statistical review (2019 data STCW-IS)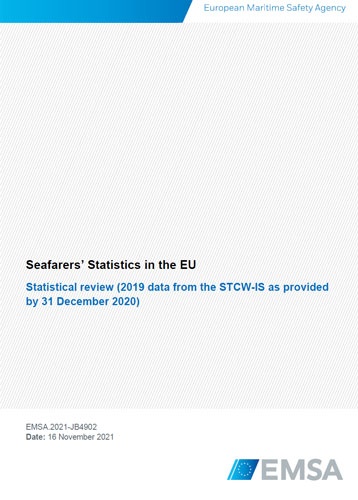 The statistical review presented in this report is based on data extracted from certificates and endorsements registered by EU Member States (including the United Kingdom), Iceland and Norway until 31 December 2019. This data which was transferred and recorded in the STCW Information System (STCW-IS) until 31 December 2020, represents a snapshot of the European labour market in terms of the number of seafarers holding valid certificates and endorsements in 2019.
The main beneficiaries of this sixth statistical review are the EU Member States, the Commission and the European Parliament for policy-making purposes. Ship owners and ship operators may continue to derive added value in terms of knowing the magnitude of manpower available in the EU to crew their vessels. The information provided in this review is also intended to be useful to maritime education and training institutions in the EU and could facilitate estimating market needs for their services. Researchers may also be interested in some of the statistical outputs, as well as seafarers and the organisations that represent them.
Links to where the previous report can be found:
http://emsa.europa.eu/publications/reports.html
http://emsa.europa.eu/we-do/assistance/visits-and-inspections.html
http://emsa.europa.eu/inspections/training-of-seafarers.html