European Maritime Single Window environment (EMSWe)
Member States have set up Maritime National Single Windows where ship operators and agents can fulfil in electronic format reporting obligations applied to ships arriving in and departing from their ports.
For the facilitation of maritime transport, and to further reduce the administrative burden for shipping companies, the information procedures for fulfilment of reporting obligations should be further simplified and harmonised and should be technology-neutral, promoting future-proof reporting solutions.
For the purpose of offering more interoperability and more comprehensive, user-friendly communication and information flows, and to improve the functioning of the internal market and meet the needs of citizens and businesses, the European Parliament and the Council have issued on 20 June 2019 Regulation (EU) 2019/1239 establishing a European Maritime Single Window environment (EMSWe).
The main aim of the EMSWe Regulation is to lay down harmonised rules for the provision of the information that is required for port calls, in particular by ensuring that the same data sets can be reported to each Maritime National Single Window in the same way. This Regulation also aims to facilitate the transmission of information between declarants, relevant authorities and the providers of port services in the port of call, and other Member States.
The implementation of this Regulation should take into account the SafeSeaNet system established at national and Union level, which should continue to facilitate the exchange and distribution of information received through the Maritime National Single Windows between the Member States.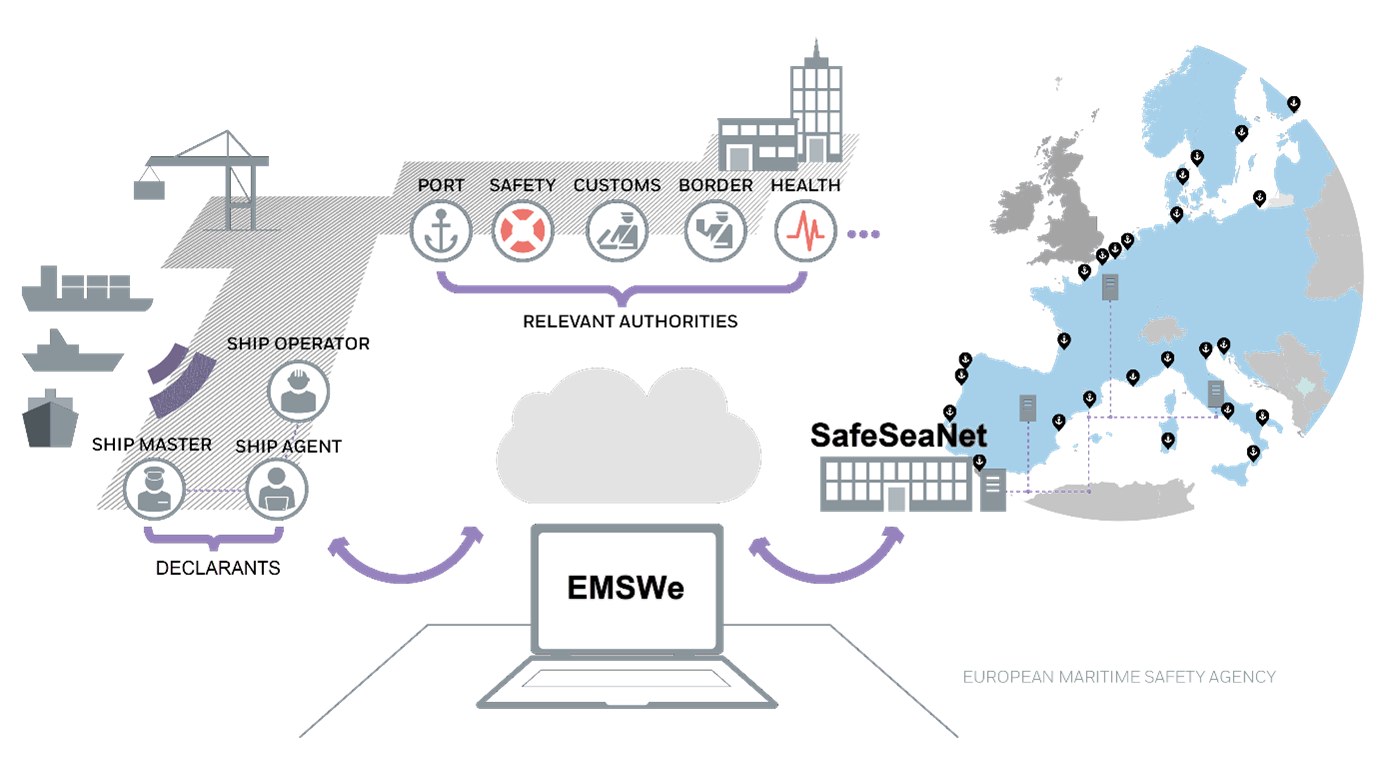 According to the Regulation, the Commission shall adopt delegated and implementing acts laying down the technical specifications of the EMSWe. The plan for drafting such specifications and for developing the different components of the EMSWe is presented in the Commission Multi-Annual Implementation Plan for the EMSWe Regulation.
The Commission relies on EMSA for the elaboration of the following EMSWe specifications:
EMSWe data set, which provides common specifications of all information necessary to fulfil reporting obligations in all ports of the EU,
Common functionalities of graphical user interfaces of the Maritime National Single Windows,
Templates of harmonised digital spreadsheets that can be used by declarants to upload information in the Maritime National Single Windows,
Specifications for the EMSWe ship database, containing ships identification information and particulars as well as records on ship reporting exemptions,
Specifications for the common location database, containing a reference list of location codes and port facility codes,
Specification for the common Hazmat database, containing a list of dangerous and polluting goods taking into consideration the relevant data elements from the IMO Conventions and Codes,
Message implementation guide, describing the information exchanges between declarants and the Maritime National Single Windows,
Response messages for authorities' acknowledgements and decisions,
Listing of data to be made available to Maritime National Single Windows via SafeSeaNet.
For this task, the Agency works in close collaboration with experts from the Member States, Shipping Industry associations and the relevant DGs of the Commission.