Costa Concordia grounding and subsequent monitoring
Requesting Authority: Italian Coastguard.
Country: Italy.
Date: January 2012.
On 13 January 2012 the cruise ship Costa Concordia struck a rock near Isola del Giglio, Italy, about 100km northwest of Rome. The ship subsequently ran aground and partially sank in shallow water, requiring the evacuation of the 4,252 people on board. The bodies of 30 people were found, and a further two remained missing, presumed dead. The vessel contained a total of 2,300 m3 of bunker oil (Heavy Fuel Oil) and grounded in an environmentally sensitive area, within one of the largest marine reserves in the Mediterranean Sea. In the period between the grounding and when the vessel was safely lifted and towed, EMSA provided satellite monitoring assistance on three occasions:
a) Early Monitoring As Part Of A Pollution Response Plan
Following the grounding of the Costa Concordia, the Italian Coast Guard contacted EMSA to request CleanSeaNet satellite images to monitor for potential oil leaks from the damaged ship. Approximately 40 CleanSeaNet satellite images were delivered to the Italian Coast Guard between 31 January and 14 March 2012. One high resolution optical image was also delivered by EMSA. During this period there was a lightering operation to remove fuel from the fuel tanks on board, which was completed in March 2012.
b) Re-Floating Operation
As part of an ongoing salvage plan, the Costa Concordia had to be re-floated before preparations could be made for towing and scrapping. The Italian Coast Guard requested support to monitor a re-floating operation on 16-17 September 2013. Two SAR images were delivered over the area of Isola del Giglio. The purpose was to ensure early identification of any possible leaks as a consequence of the operation.
No spills were detected. The image below is a CosmoSkyMed image acquired on 16 September at 05:09 UTC.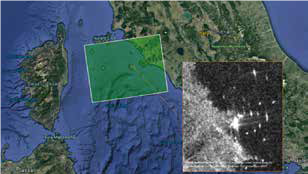 Satellite image of the area covered by Radarsat-2
c) Towing of Costa Concordia to harbour
Support was requested to monitor the progress of the Costa Concordia convoy from Giglio Island to Genova Harbour, which took four days, from 23-27 July 2014.