Satellite images as primary evidence in UK court
Requesting Authority: Maritime and Coastguard Agency.
Country: United Kingdom.
Date: February 2012.
Satellite images should always be combined with supporting information when prosecuting a case, but the images themselves may be admitted as primary evidence in a maritime pollution prosecution.
On February 25 2012 EMSA detected a possible pollution on a satellite image of the waters off the coast of Cornwall, UK. By combining the satellite image with AIS vessel track information from SafeSeaNet, the vessel was identified as the tanker Maersk Kiera, registered to Singapore Private Ltd. The vessel was contacted by the Coastguard, and initially denied that it was trailing a slick. It then admitted to cleaning the tank and discharging waste (palm oil and tank cleaning solution) but stated that this was outside the 12 nautical mile zone (i.e. more than 12 nautical miles from the shore), where such discharges are legal. Evidence from the satellite image showed that the slick was inside the 12 nautical mile zone, and that the discharge was illegal.
The owner of the Maersk Kiera, Maersk Tankers Singapore Pte Limited, was found guilty and fined. The investigating officer of the Maritime and Coastguard Agency's enforcement unit, said it wouldn't have been able to lead the prosecution if it was not for the satellite evidence.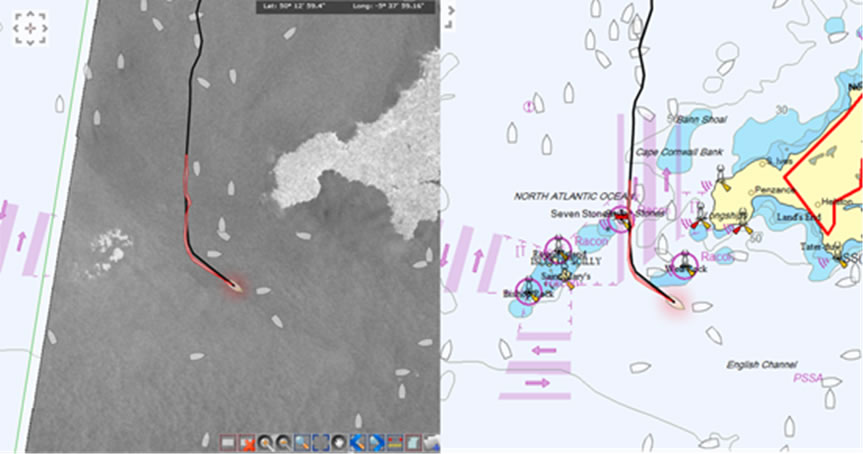 This image shows, on the left, a satellite radar image with the location, marked in red, of detected oil on the sea surface. The shape of the spill indicates a possible trailing slick of oily waste from an underway vessel. On the right, AIS vessel track information from SafeSeaNet identifies the tanker