EMSA's 5-year strategy (2020-2024)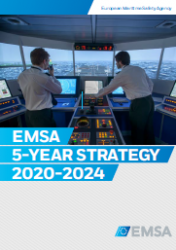 EMSA's five-year strategy (2020-2024) is its roadmap for the future.
The strategy hinges around five priority areas – sustainability, safety, security, simplification and surveillance – and the four key functions of service provider, reliable partner, international reference and knowledge hub.
The new strategy reflects EMSA's important role in the implementation of the European Commission's priorities in all policy areas related to the seas.
The strategy is available in all EU languages.