Meet EMSA at Interspill 2012 in London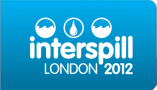 The world of oil spill response experts meets for the biggest international conference in the field, Interspill , on March 13-15.
EMSA is part of the Steering Committee for the event, and welcomes you to visit the Agency's stand at the exhibition. Learn about EMSA's oil pollution response vessels, industry best practices, and how the European Union has prepared to respond to major marine pollution incidents. EMSA's experts will also be speaking at a number of seminars and workshops at the event. Read the Interspill 2012 event programme.