Ship Safety Standards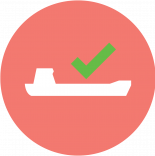 EMSA aims to progressively improve the safety of commercial shipping in EU waters. High quality marine equipment is indispensable for the safe operation of a ship, life-saving capabilities and protection of the marine environment. EMSA provides assistance where the development and implementation of EU legislation is concerned. The Agency also supports the European Commission and member states at the IMO in matters of EU competence. This task entails technical evaluation of IMO submissions and technical assistance in the preparation of submissions to IMO as appropriate. Contribution is being provided to the follow-up of developments concerning:
Directive 2001/96/EC establishing harmonised requirements and procedures for the safe loading and unloading of a bulk carriers,
Directive 2003/25/EC on specific stability requirements for ro-ro passenger ships, and
Directive 2009/45/EC (former 98/18/EC) on safety standards and rules for passenger ships (on domestic voyages).
Technical support is being offered where revision is needed to amend the EU legislation in the light of new international regulations.
Paris MoU Recognised Organizations Performance Table and Quality Performance Flags
Related Activities – Ship Safety