European Marine Casualty Information Platform – EMCIP
The European Marine Casualty Information Platform (EMCIP) is a database and a data distribution system operated by EMSA. EMCIP aims to deliver a range of potential benefits at national, European and global level, by:
• Improving safety investigations;
• Widening and deepening the analysis of the results of casualty investigations;
• Providing at-a-glance information, enabling general risk identification and profiling;
Member States notification of marine casualties and incidents, and reporting of data resulting from safety investigations in EMCIP, has been mandatory since 17 June 2011. This has allowed the Agency to assist the Commission and Member States with initial analysis of such data, the development of trend monitoring mechanisms, proposals for safety recommendations, the improvement of existing European legislation and promotion of new technical requirements.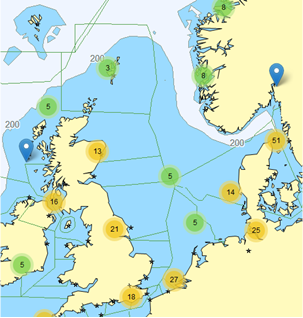 Picture: EMCIP screenshot
EMCIP provides the means to store data and information related to marine casualties involving all types of ships and occupational accidents. It also enables the production of statistics and analysis of the technical, human, environmental and organisational factors involved in accidents at sea. Furthermore, it allows Member States to report investigation findings to the IMO-GISIS system directly and without any duplication of effort.
The database's taxonomy has been developed by EMSA in consultation with the Member States, on the basis of European research and international recommended practice and procedures.
EMCIP includes a Community Portal where information is shared within the investigators' community. Information about marine casualties and incidents is also made accessible to the public, such as the investigation reports published by the accident investigation bodies and "anonymized" data about casualties and incidents notified by Member States authorities.
EMSA as EMCIP manager
EMSA is managing EMCIP on behalf of the Member States and the Commission.
This includes the maintenance and improvement of the system.
The database is currently hosted by the Joint Research Centre of the European Commission (JRC), located in Italy.
EMSA is assisted in its tasks by the Member States through the EMCIP User Group.
More Info
Accident Investigation Infographics