7th CISE Stakeholder Group meeting on 2-3 June 2021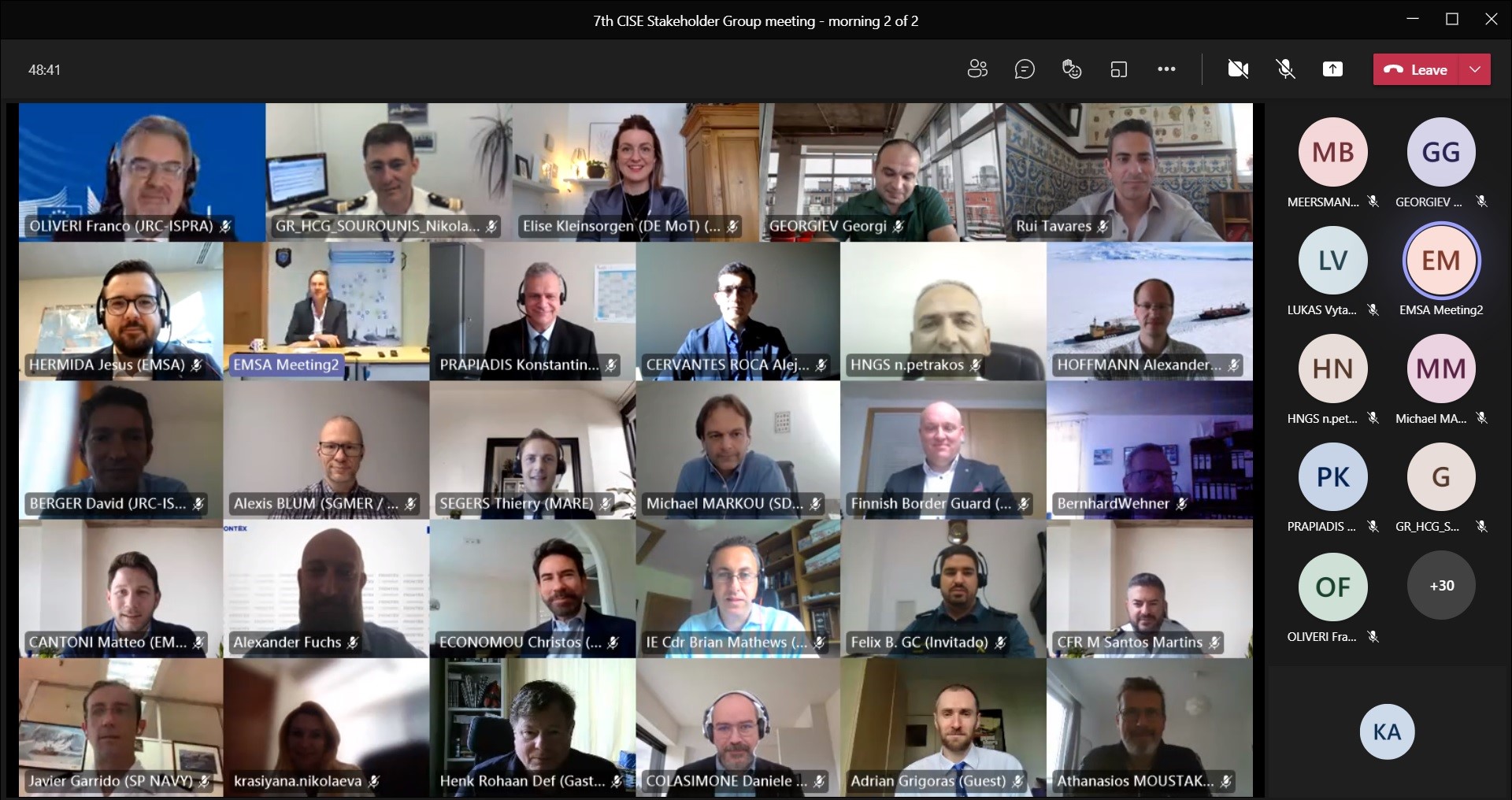 CISE Stakeholder Group (CSG) met for the 7th time to follow up on the status of activities of the CISE Transitional Phase. CSG meetings take place on a quarterly basis and are an essential tool for the Stakeholders to provide their feedback and guidance for the further work to be delivered.
During the 7th CSG meeting new CISE team members were introduced, this will allow to complete all the on-going activities by the end of the Transitional Phase. The technical team together with the Joint Research Centre is performing tests of the lately reengineered CISE node v2.0. The roll-out and implementation of the new node is planned to start in October this year. CSG members agreed also to set up a test environment next to the operational network, which will allow for validation of new services and other testing activities before rolling them out into the operational environment. In addition, work on establishing of the Responsibility to Share (RTS) principle is reaching another step as EMSA is about to award a contract to develop and formulate the audit scheme.
Other important developments towards the transition of CISE into the operational phase were reported. The recently created "Pre-operational Services Working Group" is preparing the operational view of the three services to be implemented: "Vessels of Interest list", "Incident reporting" and "Risk profile". A funding opportunity will be soon made available by DG MARE to the Stakeholders interested in developing these services and implementing them into daily operations. The process of stakeholders signing the Cooperation Agreement, which serves as conditions of use for the data shared in the network, is also underway and first signatures are expected by October this year.
The security aspect of the network was also discussed. The Stakeholders were informed that the Security Study launched by DG MARE will be concluded still in June. The first results of the Study proved already a satisfactory level of security of the solution implemented (node v2.0). The next step will be to draft a proposal for the accreditation process for the classified network, which will be prepared by the Security Study working group.
The meeting also gave an opportunity for the CSG members (namely Germany, Portugal, Spain and EFCA) to share their plans for the information to be provided to and consumed from the CISE network. What is more, Cyprus, Croatia and Slovenia informed about their plans to join the network in the Transitional Phase. Other topics presented during the meeting were standardization work in ETSI and communication activities, including past and upcoming events dedicated to CISE.
The next (8th) CSG meeting is planned on 26-27 October 2021, marking the beginning of the second half of the Transitional Phase and only two years left until the implementation of the fully operational CISE.
Date

02.06.2021
03.06.2021