STMID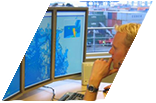 In addition to initiatives being taken at national level, EU Directive 2002/59 has been set in place in order that a Community vessel traffic monitoring and information system can be established. The purpose of this is to ensure that ships in EU waters, and their cargoes, are monitored more effectively than in the past, and that there is a more consistent approach across all EU sea areas. EMSA is the EU level provider of technical support in implementing Directive 2002/59, and this includes the responsibility for establishing the European Shore-based Traffic Monitoring Infrastructure Database (STMID).
The general aims of the STMID development project are to:
provide EMSA and Member States (MS) with an overview of authorities and coastal stations which have been designated by MS in accordance with Article 22 of Directive 2002/59/EC and with the requirements of the SafeSeaNet system;
assist MS in the collection of the required information on the authorities and coastal stations;
centralise the information in the STMID to enable access by authorised parties and eventually by the public;
The STMID will be the tool for EMSA to regularly update and disseminate relevant information on traffic monitoring infrastructure (eg VTS, AIS, SAR). It will also assist the Agency in verifying the accuracy of EU related data contained in nautical publications.
The reports within the STMID include information collected via questionnaires submitted during a survey of MS resources and capabilities which was carried out in 2006.























*Access to these documents is password protected and restricted to Member States