THETIS
THETIS is the information system that supports the new Port State Control inspection regime (NIR). This information system is crucial for the implementation of the new regime, which is laid down in the new Directive 2009/16/EC on Port State Control and its four implementing regulations, Directive 99/35/EC on ro-ro ferries and high-speed passenger crafts, Directive 2009/17/EC on vessel traffic monitoring, Directive 2009/15/EC on Recognised Organisations and the related Regulation (EC) No 319/2009 and, from July 2013, Directive 2009/20/EC on insurance for maritime claims and Regulation (EC) No 392/2009 on liability for the carriage of passengers.
The system serves both the EU Community and the wider region of the Paris Memorandum of Understanding on PSC (Paris MOU) which includes Canada, Iceland, Norway and the Russian Federation.
The working name for the system is THETIS - who, fittingly, was a goddess of the sea in mythology.
To facilitate planning of inspections, the new system is linked to the Community's SafeSeaNet system. SafeSeaNet provides information on ships in, or expected at, all ports of the Member States. THETIS indicates which ships have priority for inspection and allows the results of inspections to be recorded. Via THETIS these reports are made available to all port State control authorities in the Community and the Paris MOU.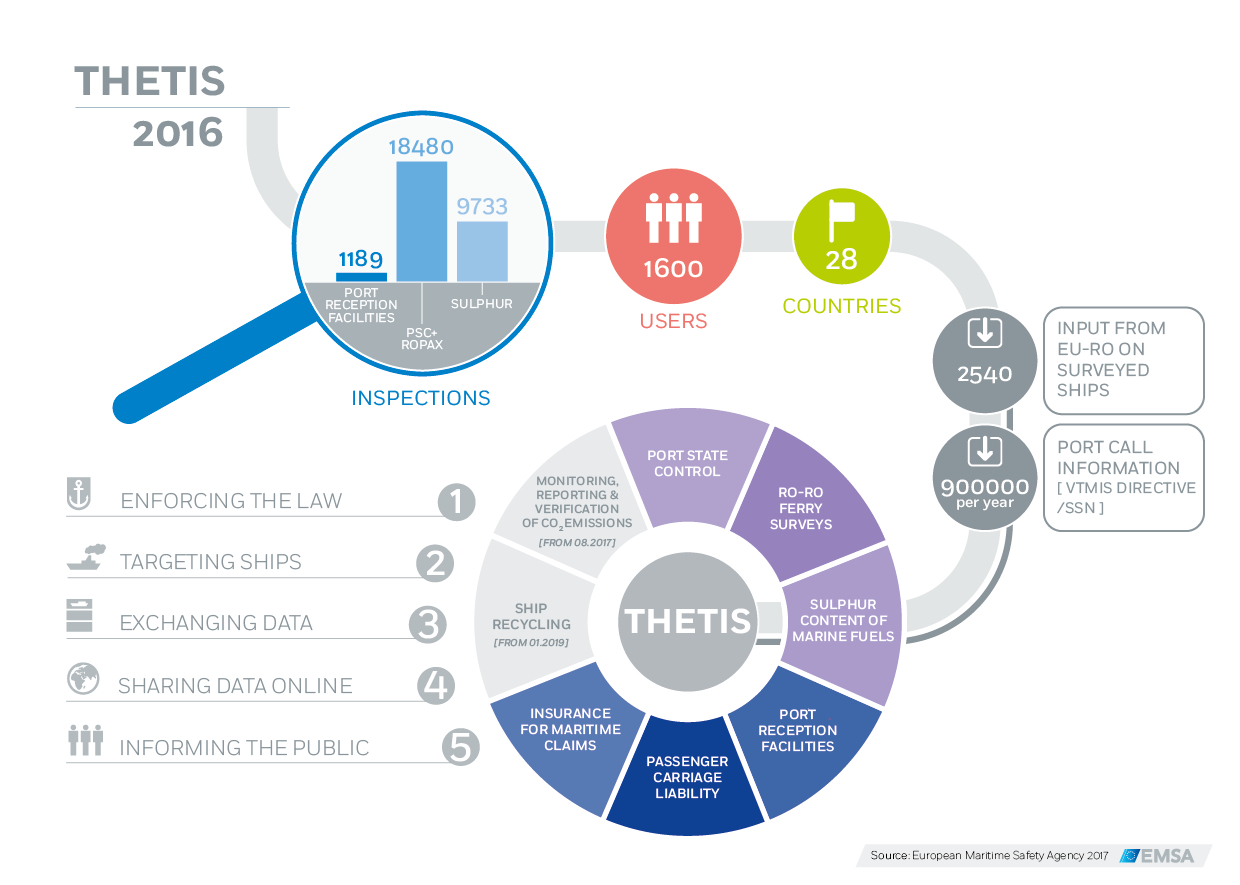 THETIS also interfaces with a number of other maritime safety-related databases including those of the EU-recognised classification societies, Community and national information systems and other port State control regimes so as to exchange data and provide a full picture for the inspector. Inspection results are also available through a public website.
In 2013 a new component for the statistical analysis of data stored in the THETIS database, known as Jasper, was created and made available to the Member States.
The Agency had provided project management, financing and the development of the system. The development began in November 2008, in close cooperation with Member States and the European Commission and the system, together with the SafeSeaNet-THETIS interface, was ready for use end November 2010. The system was fully operational, ready for the implementation of the new inspection regime on 1 January 2011. Comprehensive training for Paris MOU users had been delivered in advance.
Today, 18 000 inspections per year are recorded in the system by 600 authorised users from 27 connected countries. Each day more than 3 000 arrivals at any port in the region are recorded in the system, collected through SafeSeaNet.