European Sustainable Shipping Forum (ESSF)
The European Sustainable Shipping Forum (ESSF) was established by a Commission Decision of 24 September 2013 C (2013) 5984 final, setting-up a group of experts on maritime transport sustainability. It advanced the implementation of the Sustainable Waterborne Transport Toolbox with a vision to promote clean, competitive and quality shipping without compromising safety. What initially started as a forum that shall work towards a cost-efficient and coherent implementation of the provisions of the Directive 2012/33/EU as regards the sulphur content of marine fuels, has now been extended to assist on the recently adopted Regulation 2015/757 of the European Parliament and of the Council, on the monitoring, reporting and verification (MRV) of carbon dioxide (CO2) emissions from maritime transport adopted on 29 April 2015
The tasks of the European Sustainable Shipping Forum (ESSF) are to assist the Commission in implementing the Union's activities and programmes aimed at fostering sustainable maritime transport. The ESSF shall provide a platform for structural dialogue, exchange of technical knowledge, cooperation, and coordination between Member States, and relevant maritime transport stakeholders.
For more information and details on the ESSF, please consult the Commission DG-MOVE website on sustainable shipping.
Since 2013, EMSA has been assisting the Commission on the organisation of the activities of the ESSF. In particular, EMSA acts as secretariat and technical advisor on five sub-groups (LNG, EGCS, Implementation, PRF and MRV) and as secretariat in the rest of the groups, as shown in the diagram below.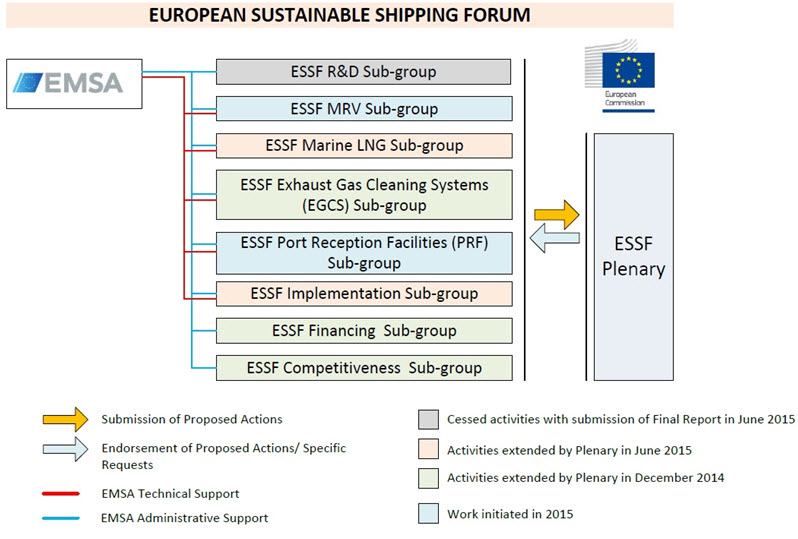 LNG Sub-group
This sub-group is assessing the need for additional standards at international level, and for possible guidance/harmonized rules at EU level for ship-shore interface (bunkering).
The sub-group activity has produced two documents submitted to IMO MSC 94 with favourable outcomes:
- Standard LNG Bunkering Connectors - Proposal for the development of an International Standard regulating the technical requirements for LNG bunkering connectors.
- LNG Bunker Delivery Note - Proposal for a standard format for LNG deliveries containing pre-defined fields (a bunker delivery note describing LNG properties / characteristics).
Both submissions contributed to the finalization of the IGF-Code.
This forum is also a platform to discuss LNG related - EU funded LNG R&D Projects, key-sensitive issues (LNG Safety, Methane Slip and Gas Quality) and Training aspects. EU LNG Bunkering Guidelines are an important part of the LNG sub-group work, where different Guidelines made available by different organizations are evaluated by these sub-group experts in view of producing a harmonized comprehensive reference for LNG Bunkering.
Exhaust Gas Cleaning Systems (EGCS - 'scrubbers') Sub-group
This sub-group focus on minimizing both technical as well as regulatory barriers hampering the take-up of scrubbers as an alternative sulphur emission abatement method.
The sub-group activity has produced two documents submitted to IMO MEPC 67 and one for PPR 2 with favourable outcomes:
-Related to amendments to the Exhaust Gas Cleaning Systems Guidelines IMO on the application of calculation-based methodology for verification of the scrubber washwater discharge criteria for pH.
-Related to an amendment to the standard text of MARPOL Annex VI bunker delivery note (BDN) allowing ships installed with scrubbers to bunker heavy fuel oil even when operating in a sulphur emission control area (SECA).
-Revised and additional guidance to MEPC 67/4/22.
All submissions contributed to the IMO EGCS Guidelines and MARPOL Annex VI amendments.
The sub-group continues its work on the following aspects:
- Regulatory and Environmental Impact - Approval and Certification, Patchwork of international, regional and local legal framework (Impact of local ecosystems, enclosed seas and ports on limitations of the use of open-loop scrubbers, washwater discharge criteria e.g. pH).
- Technical and Operational - Design, on-board installation, efficiency and reliability while continuously achieving compliance (verifiable, quantifiable and enforceable).
- Financing, Investment and Pay-back time - Uncertainty on economic feasibility (Ship type specific, tailored EGCS installation, HFO/IFO vs LSF pricing, time spent in the SECA).
Implementation of the S-Directive Sub-group
This sub-group focus on issues related to the implementation of the revised Sulphur Directive, developing inspection guidance in particular related to sampling and sampling methodology.
The sub-group has assisted the Commission in preparation of the Implementing Acts on frequency of inspections, frequency of sampling, sampling methods and sampling points.
Port Reception Facilities Sub-group
This sub-group aims at sharing expertise and best practices in the light of a potential review of the Port Reception Facilities Directive 200/59/EC and develop specifically interpretative implementation guidelines. Part of its work includes developing results of the ex-post evaluation study of the PRF Directive as well as to develop the existing analyses of cost recovery systems for the payment of a fee to deliver waste.
Shipping MRV Sub-groups
Shipping MRV (verification and accreditation)
This sub-group aims at identifying best verification practices, best accreditation practices and advice on how to translate the relevant elements into rules applicable to shipping MRV activities.
Shipping MRV (monitoring/cargo methods)
This sub-group aims at identifying and reviewing:
-Technical rules for calculating the parameter of cargo carried;
-International and European rules and standards triggering possible amendments to the monitoring methods;
-Scientific and technical developments triggering possible amendments to elements of the monitoring methods;
-Best practices for monitoring fuel consumption, CO2 emissions and other MRV relevant parameters.
Competitiveness Sub-group
The sub-group focus on identifying key factors for a competitive shipping sector mainly with regards to the potential modal back shift while identifying trades and shipping lines that could or are about to lose their competitive advantage against other transport modes.
Research and Innovation Sub-group
This sub-group aims at determining how research, technological development and innovation can contribute to long-term sustainability and competitiveness of the shipping industry. Its main activities have been mainly related to:
Identification, prioritization and proposal of key Research topics used as input for "Horizon 2020" 2016/2017 calls.
Integration of different EU Research Associations, aiming at potentiating synergies and dissemination of R&I initiatives and results.
Showcase of EU-funded Sustainable Shipping initiatives (CEF and TEN-T programmes).
Financing Aspects Sub-group
This sub-group aims at determining a cost-efficient and coherent implementation of the provisions of the Sulphur Directive by exploring all financing opportunities, assess and recommend financial mechanisms within and beyond the EU financial framework.