Anti-Fouling Systems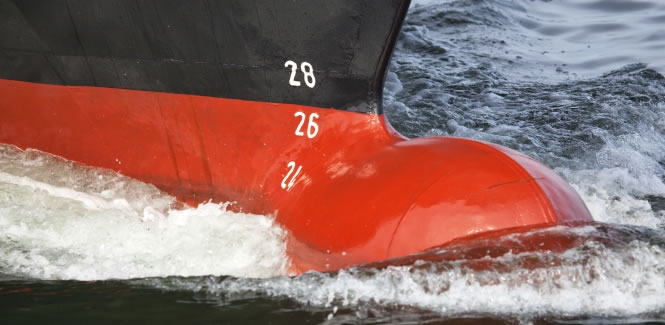 Image: shutterstock
Background
The IMO Convention prohibiting the use of paint with organotin or TBT components which are environmentally harmful (the AFS Convention of 2001) has been transposed into Community legislation by Regulation (EC) No 782/2003 on the prohibition of organotin compounds (TBT) on ships and the related Commission Regulation 536/2008/EC .
Different measures to prevent sealife attaching to ships' hulls have been developed throughout maritime history. In the 1960s, organotin compounds such as tributyltin-oxide (TBT) were found to be highly effective. This type of anti-fouling works by providing an unstable surface containing a toxic biocide. However, it soon became clear that the use of TBT coatings has negative consequences on the wider marine habitat, including an adverse impact on numerous non-target organisms which, in turn, has implications for bioaccumulation to the human food chain. Moreover, TBT deposited in sediments and dredged material from affected areas — e.g. near ports, dockyards and marinas — became subject to serious concern. Due to such harmful effects, many countries have prohibited or restricted the use of TBT.
AFS Convention
Legislation to ban TBT in ships' anti-fouling paints was agreed by the adoption of the International Convention on the Control of Harmful Anti-Fouling Systems on Ships at International Maritime Organisation in 2001 (the AFS Convention). Under this convention, the last date for the application of organotin paints on ships was 1 January 2003. The total phase-out of organotin antifouling coatings should have been completed by 1 January 2008. The AFS convention entered into force on 17 September 2008.
To support the implementation, IMO has adopted several sets of guidelines, namely the "Guidelines for Survey and Certification of Anti-fouling Systems on Ships" (Resolution MEPC.102(48)), the "Guidelines for Inspection of Anti-fouling Systems on Ships" (Resolution MEPC.105(49)) and the "Guidelines for brief sampling of anti-fouling systems on ships" (Resolution MEPC.104(49). Most recently, IMO has adopted the "Guidance on best management practices for removal of anti-fouling coatings from ships, including TBT hull paints" (Circular AFS.3/Circ.3 of 22 July 2009) developed by the London Convention on Dumping 1972 and its 1996 Protocol. This Guidance is limited to the subject of removal of harmful anti-fouling systems as the subject of (in-water) hull cleaning has been dealt with in separate guidelines.
EU Regulation
The AFS Convention has been transposed into EU legislation through Regulation (EC) No 782/2003 on the prohibition of organotin compounds on ships. According to the Regulation, organotin compounds which act as biocides in anti-fouling systems are no longer allowed to be applied on ships flying the flag of a Member State as from 1 July 2003. As from 1 January 2008, EU ships and other ships visiting EU ports were obliged either not to bear anti-fouling systems containing such compounds, or to bear a coating that forms a barrier to such compounds leaching from underlying non-compliant antifouling system. The Regulation is further supplemented, firstly, by Council Directive 76/769/EEC as amended, which prohibits the marketing and use of organostannic compounds within the EU and, secondly, by Commission Regulation (EC) 536/2008 comprising measures enabling ships flying the flag of a third State to demonstrate their compliance and procedures for control.
EMSA Role
EMSA has provided technical assistance to the European Commission and the Member States in the implementation and revision of the abovementioned Regulation (EC) No 782/2003. To this end, EMSA organised a workshop on 14 May 2007 with a particular focus on the practical enforcement issues facing the authorities and the shipping industry. A correspondence working group led by EMSA was set up to develop criteria and indicators to assist the inspectors. The three sets of IMO guidelines related to the AFS Convention — annexed to resolutions MEPC.102(48), 104(49) and 105(49) — were studied in order to build these criteria. The results were made available to the Paris MOU on Port State Control, in order to assist in its preparation of instructions for the enforcement of the AFS Convention. More recently, EMSA has prepared a questionnaire to the Member States on how the system works in practice. The information received was assessed and summarised in a report in 2009.
Following the report delivered in 2009 on how Member States apply or monitor the functioning of Regulation 782/2003/EC, and suggestions for possible corrective actions, assistance will be provided to the Commission as requested.
More Info